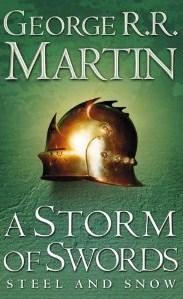 This one was a long time coming. By my best guess, I started this book in 2008 while in the process of finishing my dissertation, applying for jobs, and moving across country. A lot happened around that time, and for a while I basically stopped reading for pleasure. A few years back, I finally managed to work reading back into my life, thanks in large part to the wonderful portability (and built-in backlight) of my trusty Kindle Paperwhite. But even then, it took a while to get back to this book. The Sundering had arrived in the Forgotten Realms, bringing with it six new and (generally speaking) exciting books, as well as their sequels. And there are always books to read for work.
I finally started making progress on this again last summer. After having to take a month or so off for some work-related reading, I got back to it again a few weeks ago and have poured through it since. Here are my
comments on goodreads
.
A Storm of Swords continues many of the strong points of that carried the prior two novels in the Song of Ice and Fire series. There continue to be deep, fascinating characters from prior novels that often seem in well over their heads in this violent, dangerous world at war. Each chapter tells the story from the perspective of different characters, each with their own voice and motivations. The story remains unpredictable, and the events of this book are nothing short of realm-shaking. As fans will point out, no character is ever truly safe. Nevertheless, Martin managed to set this tone--and, indeed, allow some critical characters to perish--without making it seem forced or intentional, and there was really only one time when I felt like I was being teased.
That all said, there is one pretty substantial way that this book departs from prior novels: magic is real. In books 1 & 2, despite references to magic, I generally found it easy to dismiss this as character superstition or mysticism. It was never obvious to me that something that ventured into the true, overt supernatural must be part of the world. But with book 3, there can really be no doubt. While all may not be as magical as it seems, some form of divine-inspired magic seems a certainty. When people talk about how good writers show the reader, and don't tell the reader, this is exactly what they're talking about: Martin allows us to discover this on our own, at our own pace. I imagine that I was one of the last to believe.
I'm glad that I finally came back into the fold. While there are a few books I want to read before I start up once again, A Feast for Crows is calling me...and a Dance with Dragons beyond that.